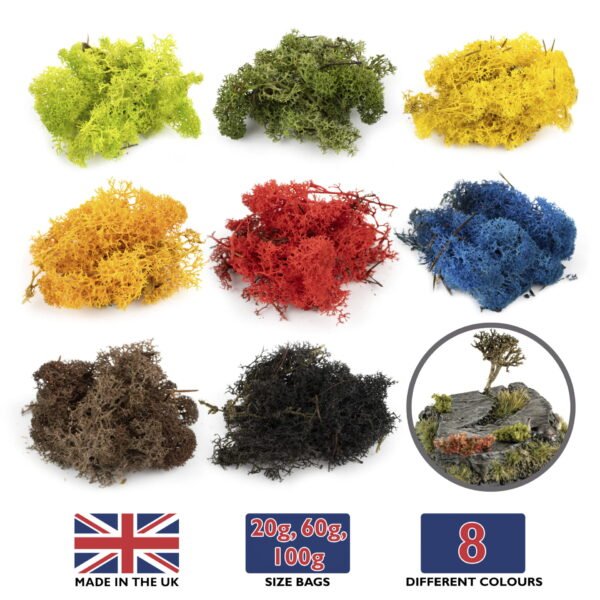 Lichen (Choose Size & Colour)
£2.99 – £7.50
LICHEN – Lichen model moss from the large range of foliage materials by War World Scenics
SIZES – Available in 20g, 60g or 100g (approximate weights) resealable bags
COLOURS – Available in a range of vibrant colours to suit all terrains and layouts
NATURAL – Natural product ideal for creating model trees bushes hedgerows or any other model foliage
MODELLING – Suitable for a range of modelling tasks including model railway, wargames, architectural design and dioramas
Description
The lichen model moss is from a large range of basing materials by War World Scenics and is ideal for any modelling task where you wish to create a natural and realistic foliage effect. Recreate model trees, bushes, hedgerows and shrubs with this natural lichen moss. Suitable for any model railway landscape or wargame layout, as well as architectural designs or model dioramas. Lichen can also be used as a basing material for your miniature models and figures and is available in a range of vibrant colours. This is a natural product which has been specially treated to retain its colour and shape. Disclaimer: All natural lichen products will come flattened, but will immediately reshape once air is reintroduced when opening the bag
Here at War World Scenics, we are passionate about modelling and we always try to improve our products and continually create innovative new additions to our huge range. Whether you need scenery materials such as static grass and tufts, modelling materials such as ABS and balsa, or even model structures like bridges and platforms, we guarantee you'll find what you need.
Available in a range of vibrant colours and each colour is available in either a 20g, 60g or 100g resealable bags (all weights are approximate). We also have a range of lichen multipacks available (see other listings).
Only logged in customers who have purchased this product may leave a review.