Static grass layering spray is a fundamental part of the static grass system, which has revolutionised the modelling industry. Not only is static grass layering spray an integral part of applying static grass to your model railway layout, diorama or wargaming battle board, but it can be used for other aspects of your scenery modelling as well. Layering spray is second layer of grass on top of basing glue because you don't have to wait for it to try to be able to use and continue making your scenery.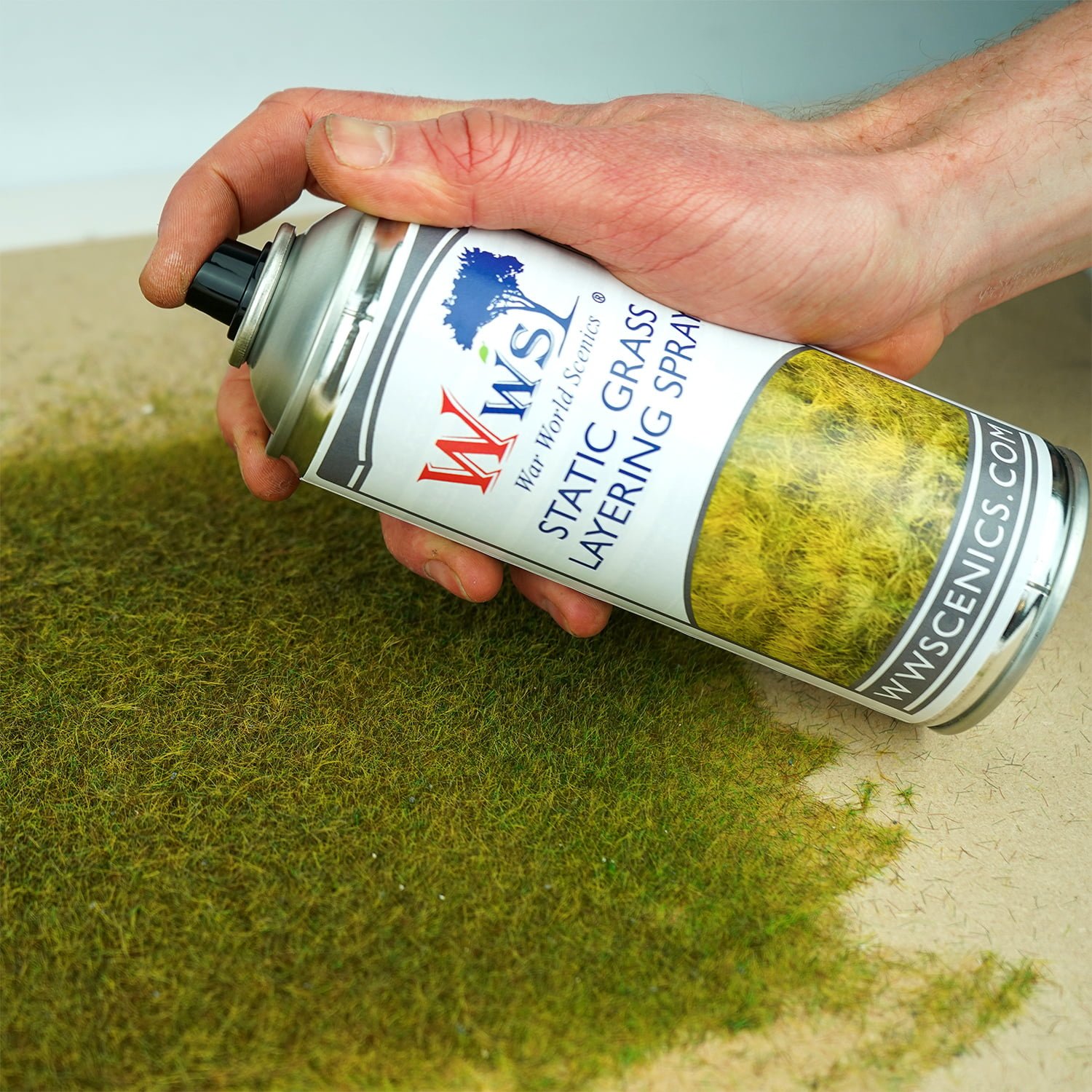 What is static grass layering spray, and why is it so special?
Static grass layering spray is an ultra-fine, fast drying, clear glue that works better than anything else you'll find on the market. It dries incredibly fast, and you don't have to wait for each layer of glue to dry before continuing to your next layer. The secret to static grass is glue, and layering glue is what helps static grass stand up and look so realistic. It dries clear as well, so the layers of glue are invisible among the layers of super-realistic grass.
What else can I use layering spray for?
Realistic grass effects
Other than for gluing static grass down, you can use it to manipulate grass while the layering spray is still wet to create different types of realistic special effects. For example, while your layer of glue and static grass is still wet, you can move it around with your fingers to create clumps of grass, and reapply a layer of glue and static grass over the top of it. This will create a realistic tufty wild meadow. If you look outside at a field or a meadow, you'll notice that wild grass is never truly even, manicured, or symmetrical. Playing with layering spray allows you to achieve an impossibly realistic effect.
You can also create the effect of a fast-moving train by blowing on the grass surrounding your train track before it dries. This means your grass will dry at an angle, making it look like the speed of the train is bending the grass along with it.
Learn more about layering spray and our static grass layering system
Layering spray is an incredibly useful product to have on hand no matter what you're doing and making, but it is also part of a larger system that helps you create the most realistic looking static grass for your model or diorama that you can find available to you on the market. If you'd like to learn more about our static grass layering system, don't hesitate to browse our website and informational videos, or get in touch if you have any questions.