Here are a collection of reviews we've had by magazines throughout the years:
Model Rail October Issue 187 Review
WWS PRO GRASS APPLICATOR
PETER MARRIOTT'S VERDICT
Robust, effective, versatile, cheaper than the leading static grass tools.
The WWS Pro Grass is a new static grass applicator from UK company WWS Scenery Manufacturer. It is a hand-held electrostatic grass planting device that looks like the popular Noch Grasmaster. It has a white container into which the grass fibres are placed and power comes from a pre-fitted 9v alkaline battery. Three screw-on sieves with finemedium and coarse mesh are supplied for use with the static grass lengths from 1mmm to 12mm. The fine meash is suited for the shortest grass fibre 1 to 2mm whilst the medium mesh is best for 2 to 4mm fibres. The larger Mesh is for the use with 6mm, 10mm & 12mm long grass fibres. The screw-on caps are plastic but the mesh is metal.
The tool feels very well made but how does it fare against it more established rivals?
I experimented with it on an area of Chris Leigh's 'Oakworth' layout. I has planted some 2mm grass fibres on 'Oakworth' last year, using the 'Mk I' Grasmaster so, working again on the layout I was able to accurately asses how well the Pro Grass works. I tested the Pro Grass exstensively on both medium and long fibres. The fibreswere planted quickly and stood up straight. I'm pleased to report that the WWS tool worked much more effectively than the old Grasmaster and many more long fibres stood upright in the glue.
The Pro Grass also worked superbly well on the shortest lehgth fibres, which is good news for'N" gauge modellers. Having a choice of three sieves makes this a very versatile tool and it seems to give results as good as the latest Noch GrasmasterII. Its is pleasing that this tool has been developed and made in the UK by a UK Company.
So not only does the Pro Grass outperform the old Grasmaster, it also offers excellent value for money.
---
Wargames, Soldiers and Strategy Review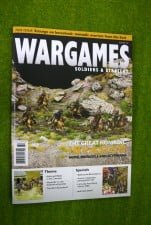 The Pro Grass static grass applicator from War World Scenics is made for covering large areas of terrain with static grass. It is designed to work with grass that is 4mm or larger. The applicator comes with three different sized filters for the differ- ent lengths of grass. The operation is simple: fill the container with grass, screw on the filter, attach the grounding wire to the terrain and switch on. Then sprinkle for effect on an area covered with glue. The Pro Grass applicator can also be used to make 'tufts' by simply putting dobs of glue on a non-stick plastic surface and applying the static grass over top. This is a professional piece of kit, and while certainly not cheap, it is very effective. The WS&S team will be using Pro Grass for our 12ft gaming board at Salute 2014.
---
Rail Express Review 2013
"WWS have arguably the best range of static grass available to the UK modeler, all of which is exclusively available through the company. The range covers 1mm, 2mm, 4mm and 6mm lengths to cater for almost every eventuality and layout requirement. Supplied in quantities 0f 15g, 30g, or 100g of each type, prices range from £1.95 to £11.60. Various 'mega' Packs of 12 different types are available at £26, as well as Trade Bulk quantity bags. Visit www.wwscenics.co.uk to see the full range of prices and products, which extends beyond the static grass covered here.
The static grass colours currently available are: spring mix, summer mix, autumn mix, winter mix, patchy grass, spring rock debris, autumn leaf litter, farm field 'A' farm field 'B' farm field wheat, muddy grass, alpine spring mix, alpine summer mix summer with black rock, melting snow, white snow, white snow scatter.
More under development to complement this already substantial range. The 'spring rock debris' is particular effective, having that fresh and bright new season fell about it. Containing nicely scaled down rock chippings, this would be ideally suited to moorland, rough terrain, embankments and the like. The 'melting snow' is equally impressive, this being a mix of some darker colours together with the white snow to give an uneven patchy look to fields, hedgerows, etc., and ideally used with 'white snow scatter' to give the full effect and depth of wintery scene.
The 'seasonal' colours are probably the most popular as they represent the shades which will be commonly used on almost every layout or diorama. Extra flavor can be added using the variety of farm field and alpine mixes to create the array of colours, which is so often overlooked in the model railways. There is now no excuse for using only one or two shades of static grass on your layout"
---
Static Grass Super Test
Our Static Grass was test in a Super Test carried ot by Model Rail Magazines scenics expert Peter Marriott. We were tested against 14 other companies. Peter's review on our products states.
"War War Scenics is swiftly advancing into the railway modelling market. Its UK-made range has colours and blends suitable for all seasons in 2mm, 4mm, and 6mm lenths (quantities range from 10g packes to 100g tubs). The colours are subtly realistic and the good news is that the company is to expand its range in the future".
Availiability: 5/10
Ease of Use: 9/10
Versatility: 9/10
Value for Money: 9/10
Quick Verdict: An Excellent range of very subtle UK-made colours.
Overall Rating 8/10 3 Stars Best Value Model Rail
---
Railway Modeler October 2013 Review
War World Scenics is as it name suggests, chiefly known in the war gaming arena. But its products will, of course be useful to railway modellers. Illustrated is just a part of its extensive range of glues, cleaning fluids and scatter materials.
In small 25g re-sealable bags are: Snow Scatter (0.5mm long Fibres): White Snow Static Grass; two mixes of static grass representing dead Grass (i.e. of the shade often found when the snow has melted); Farm Field D- a yellow shade- static grass (2mm long fibres); Patchy Grass (4m long fibres) Farm Field B – a mid-green static grass (2mm long fibres) Farm Field C – an orangey shade – Static grass (2mm long fibres), Golden Wheat fibres; Melting Snow static grass (2mm long Fibres) ; Summer static grass (10mm long fibres); Muddy Grass fibres; Scorched Grass fibres (2mm Long) and Patchy Grass fibres (2mm long). With such a range as this it is no surprise that War World Scenics sells a Tea Strainer type applicator and has its own design under development.
Its smaller re-sealable bags are 20g- worth of Spring Rock Debris (with 2mm Static fibres); Autumn Leaf Litter (2mm long fibres); and Summer leaf litter (2mm long fibres; whilst the same bag size also provides 50g of coal.
Larger size (8" x 6") non- re-sealable bags contain Winter Mix static grass fibres (6mm long x 30g) and 40g worth of 2mm Spring static grass.
Static grass fibres are also available in two sizes of puffer bottles, and there are also shaker jars of Forest Ground Cover and Light Green static grass. Finally, there is a length of (approx 15"0 of wire, representing loops of Razor Wire about ½ across.
War World Scenics has a wide selection of adhesives, including a fast tack glue, which dries in 10 minutes, is water-soluble and can be re-applied after just quarter of an hour. Also available is a handy bottle of Track & Wheel Cleaner, which contains isopropyl alcohol, which is dispensed by a pump-action nozzles.
---
The Nurenberg Report
WWS Scenics Formerly known as War World Scenics, this British firm is expanding its large range of static grss, including a farm field effect(in 2mm fibres) plus a patchy dead grass in 1mm and 4mm lengths.
---
Hornby Magazine Review
"An impressive range of static grasses and other scenic materials are available from War World Scenics – a new name in specialist scenic supplies. The manufacture's produces 2mm,4mm & 6mm static grasses in a variety of hues plus pre-filled puffer bottles and its own range of glues.
The static grasses received for review included an 4mm long autumn mix shaker bottle 6mm long winter mix bag and a 1mm long spring grass. From our perspective muted colours work best in a model railway environment and the winter mix suited this outlook well.
The pre-mixed glue spray bottle is a useful tool too offering ready to use diluted PVA* at a suitable consistency for a variety of scenic work.
War World Scenics produces a wide range of static grass products – and more – and the full catalogue is available to view on the manufacture's website". (MW)
* The glue submitted for review was our Premier FTG Glue, Not PVA
BRM is currently reviewing our Pro Grass
Hornby Magazine are currently Reviewing our Pro Grass
We have had another two great reviews of our Pro Grass Applicator, one in Hornby Magazine and the other in BRM, this months issues. "Best Buy on the Market Place"
---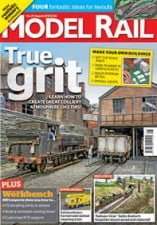 Model Rail
Our Products feature Modle Rail Magazine July 2015.